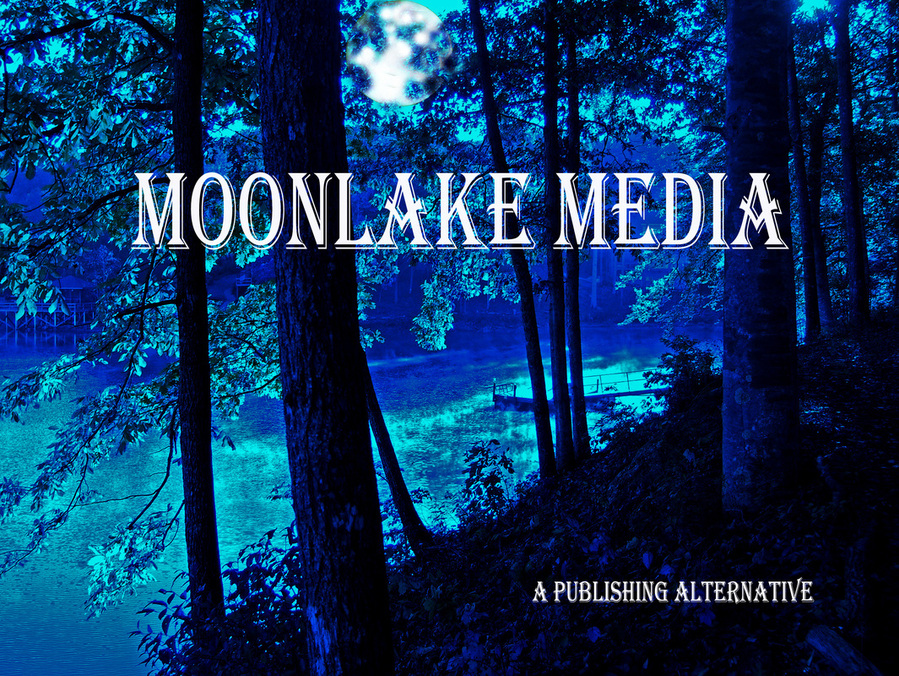 Moonlake Media, Moonshine Cove's new Imprint, a Needed Publishing Alternative
Do you believe your work has merit? Are you convinced your manuscript will succeed if given a chance?
If your answer is yes, then you should consider Moonshine Cove's new publishing alternative, Moonlake Media. As an imprint of Moonshine Cove, we provide a way for aspiring authors to independently publish their work, either fiction or nonfiction, by assuming the financial risk.
When you partner with Moonlake Media, you will receive all of these important benefits:
Publishing Partnership
- Your book will be treated exactly the same as Moonshine Cove books for which we pay all costs. The difference is that instead of the publisher taking the financial risk for editing, design, layout, production and distribution, the author does.
No Second Class Contract
– Our agreement to publish your book is virtually identical to regular Moonshine Cove authors, differing only in stating that the author assumes financial responsibility for editing, design, layout and production instead of the publisher.
Quality Books
- You book will be the same high quality, professionally produced work Moonshine Cove is known for. You will not be a "second-class citizen" if you choose to publish with Moonlake Media.
Global Distribution
- You will benefit from the same wide ranging distribution that Moonshine Cove authors enjoy including Kindle and other eBook distribution such as Barnes & Noble's Nook and Itunes.
Widespread Availability
- Your book will be available for sale at Amazon, Barnes & Nobel, Ingram Book Company, Amazon.uk, Amazon.au, Amazon.ca, Amazon.fr, Amazon.uk, Amazon.jp and several other distributors.
Edit and Written Critique
- Your manuscript will be professionally edited and you will receive a full written critique of your writing to help you improve your future writing endeavors.
Author Copies Discounted
- You will be able to purchase copies of your book at the same discount rate offered to Moonshine Cove authors, 50% discount from retail plus s&h.
Regular Book Updates
– You will be able to update your book as often you think necessary. We will evaluate each update and offer the lowest update fee possible.
Friendly Working Relationship
– Our staff will work with each author throughout the editorial and production process as a full publishing partner and establish a cordial working relationship.
Continuing Support –
Unlike too many publishers, when you email us with questions or concerns, you email will be answered; not next month, but right away.
FEE STRUCTURE
Editorial Process:
Copy Editing, Developmental Editing & Written Critique $350/ten-thousand words
Interior Layout & Design
PDF conversion and Initial Proof $325
Intermediate Proof PDF $95
Final Proof PDF (print ready) $95
Cover Design and Preparation
Front Cover Image, public domain $50
Front Cover Image, royalty free $250
Cover Design, Complete with barcode $345
Cover Design, spine and back cover copy only $245
eBook Conversion
Kindle $75
Other eBook Formats $75
Promotion-publicity-marketing
Library of Congress Control Number $25
ISBN (International Standard Book Number) $55
Distribution Services (Amazon, B&N Availability & others) $200
eBook Distribution (Amazon, B&N, KoBo, Apple, etc) $100
PAYMENT
We offer two payment plans. Which ever you chose, we will send you an invoice through PayPal that you can pay using a credit card (no PayPal account required).
Option 1
– Pay the full amount at the time the publishing contract is signed. You will receive a 5% discount if you chose this plan.
Option 2
– Pay in three equal payments:
First Payment
– one third at the time the contract is signed
Second Payment
- second third when our edited version of your manuscript and written critique is finished and ready to send to you
Third Payment -
the final third when the Initial Proof is completed and ready to send to you.
I'M INTERESTED — WHAT'S MY NEXT STEP?
All you need to do to start the ball rolling is to send us an email:
ed-staff@moonlakemedia.net
We will send you our publishing contract with instructions on how to proceed.
---